Walgreens Plaza - SOLD
310 Main Street Haverhill MA, 01830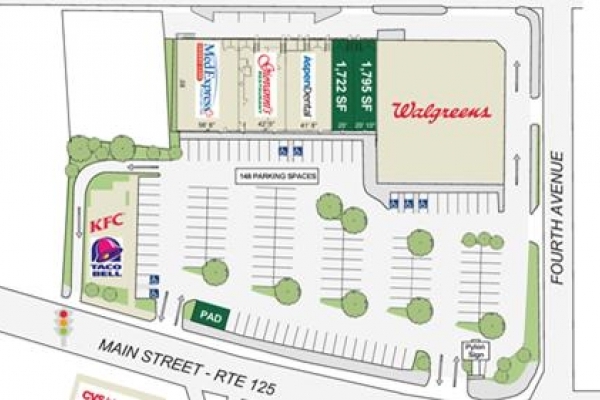 View Large Image
Haverhill is a thriving and robust city, with several thousand recently built multi-family units and redevelopment projects such as the $80 million mixed-use development, Harbor Place, which includes a satellite campus for UMass Lowell. It is a dense, walkable and transit-oriented urban downtown with a direct commuter link to the city of Boston, offering businesses, families and young professionals an affordable urban lifestyle that's still connected to the Boston economy.
Walgreens Plaza, 1.5 miles from Interstate-495, is a strategically located infill service/convenience center at the junction of Routes 125 and 110 in Haverhill, MA, with excellent visibility on the busiest street in this community. At the entry to downtown Haverhill, City Hall, and steps to the Merrimack River, Walgreens Plaza is seen by over 26,000 vehicles every day and is recognized as the dominant and newest retail center in Haverhill.
Walgreens Plaza, a 33,620 SF service/convenience center featuring abundant parking (4.4/1,000) and a signalized intersection, is surrounded by a population of over 60,000 people within a 3-mile radius and with a median household income of $69,577. GLA
33,620
SF Traffic Count
26,000 Parking
149
Walgreens Plaza - SOLD Demographics



1 Mile Radius

2 Mile Radius

3 Mile Radius
Population

1 Mile Radius

22,613

2 Mile Radius

46,738

3 Mile Radius

60,411
Households

1 Mile Radius

9,280

2 Mile Radius

18,673

3 Mile Radius

24,008
Median HH Income

1 Mile Radius

$54,048

2 Mile Radius

$63,631

3 Mile Radius

$69,577