Walgreens Plaza Haverhill Ma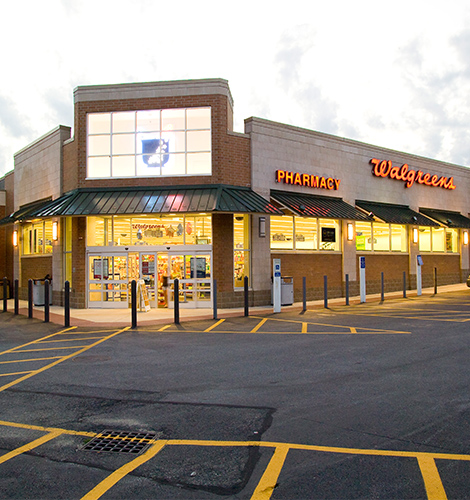 310 Main Street, Haverhill, MA
Challenges
The challenge in the redevelopment of Walgreens Plaza was a competitive threat from a developer who had gained land control from an abutting landowner and was negotiating with Walgreens, the Bierbrier anchor tenant, to move to the adjacent site to accommodate its new larger prototype with drive-thru – requirements not accommodated at the existing site. The current Walgreens location was also uncompetitive because it was the furthest end cap to a strip built vertical to the street, which provided limited visibility. The loss of this tenant would have resulted in Bierbrier owning an unanchored strip with 50% vacancy.
Solutions
Bierbrier's long standing relationship with the abutting owner enabled Bierbrier to step in when the competitive developer's contract was being renegotiated and offer to meet the needs of the abutter for a long term legacy income stream through an unsubordinated ground lease. Then, a complex logistical solution was developed to build a new, larger center on the combined site, horizontal to the street, to provide Walgreens with its prototype, and with enough small stores to assure the existing equity was retained and indeed improved. This was particularly challenging because of the requirement to minimize disruption to the ongoing business operations of the existing tenants throughout the construction period. Underpinning this effort was the difficult task of documenting the security of the underlying collateral for the bridge lender in this multi-stage redevelopment.
Once the acquisition was in place, Bierbrier demolished an older apartment building on the abutting site together with a store block requiring successful negotiation of a number of lease terminations to allow for the redevelopment. Following demolition, Bierbrier built part of the new center on that parcel so existing tenants could be relocated to the newly constructed small shop space and Walgreens was relocated into temporary, pharmacy only space.
The subsequent phasing involved demolishing the existing Walgreens anchored center, construction of additional small shop space, and final relocation of the new, much larger Walgreens Pharmacy and drive-thru on the original site, now part of the assembly.
Once complete, Bierbrier was able to further stabilize this turnaround asset with a series of additional national credit tenants to secure a favorable conduit mortgage and create a long term stable income stream.