Wellington Circle Plaza Medford Ma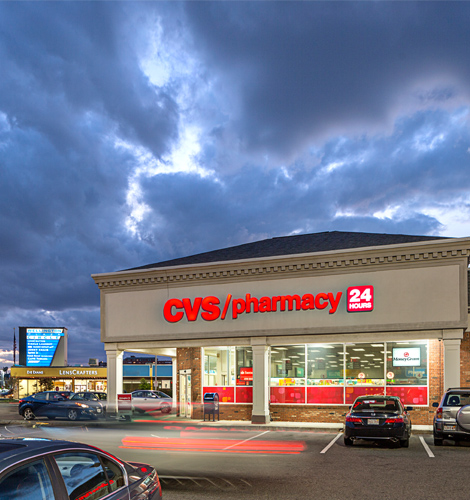 Junction of Mystic Valley Park Way (Route 16) and Fellsway (Route 28) Medford, Mass
Challenges
To successfully double the size and upgrade a regional strip center that originally opened in 1938 with challenges in the areas of acquisition, contamination, tenant vacancy and re-design.
Solutions
In the acquisition stage, Bierbrier was faced with the challenge of replacing the five original capital partners who withdrew just before putting the property under contract because of recession fears. Fortunately, Bierbrier was able to retain the confidence of the seller so that the property was kept under contract for a two year period enabling Bierbrier Development to complete preliminary development planning and to secure replacement equity to close on this acquisition.
The next hurdle the team faced was to build on a landfill with significant contamination. Bierbrier managed both environmental and geotechnical engineers to originate a plan that involved both trucking soil off-site and deed restricting the site against residential development through the recording of an Activities and Use Limitation.
A further challenge Bierbrier was able to overcome was the significant tenant vacancy arising out of the economic difficulties of the 1990's. Before the recession, Bierbrier had built an addition of 22,000 SF financed 'on spec'. Nevertheless the short term weakness in the market needed to be managed, and the strategy Bierbrier followed was consistent with the strong value of the location and the income Bierbrier was able to generate through creatively redeveloping an existing second floor storage space into retail.
Spaces were left vacant in anticipation of improved market conditions, at which point rents doubled as national and regional tenants with strong credit returned to the market to bring the center to full occupancy.
Finally, in 2009 Bierbrier was able to completely renovate the shopping center with a contemporary exterior design, without disturbing 15 operating tenants. After lengthy negotiations, Bierbrier secured agreement from every tenant to fully alter the exterior façade of their stores and to accept a redesign of their store front. A second state curb cut from Route 16 was added to the center, now benefiting from five means of access and internal circulation was substantially improved as well. All approvals required for the redevelopment were granted by the Medford City Council and MassDOT, representing the eighth time discretionary permits were granted.
The added value created on this site by Bierbrier was even more pronounced with the emergence of more than 4,000,000 sf of retail and office space developed within 1/8 of a mile of Wellington Circle Plaza since the original Bierbrier acquisition, which significantly increased the value of this asset.