News & Events
Bierbrier Development Receives Leed Certification for Needham Street Village Shops, Newton
Bierbrier Development of Lexington announced today it received Leadership in Energy and Environmental Design (LEED) certification from the United Stated Building Council for its development project the Needham Street Village Shops located at 55 Needham St. in Newton.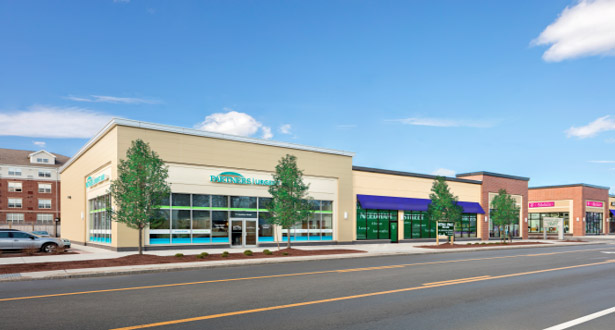 The LEED certification, devised by the United States Green Building Council (USGBC) "evaluates the environmental performance of a building and encourages market transformation towards sustainable design." These buildings are resource efficient, using less water and energy and reduce greenhouse gas emissions.
"We are pleased to receive LEED certification for the Needham St. Village Shops and proud to serve an example for sustainability and environmental awareness in retail development," said Len Bierbrier, President of Bierbrier Development. "We believe, as developers, there is a need for environmental responsibility to respect how real estate development impacts a community and its environment."
Needham Street Village Shops is an example of how Bierbrier is leading the building industry with its LEED certification. Careful consideration of the impact both the building and businesses have on the environment is ongoing; The building materials used, the sustained tenant energy usage and their environmental footprint remain important factors.
ANY OTHER PROPERTIES OF BIERBRIER HAVE LEED CERTIFICATION?
About Bierbrier Development:
Founded in 1974 by Leonard Bierbrier, Bierbrier Development began as a commercial brokerage firm with its first lease totaling a humble 800 SF. Over the course of 40 years, Bierbrier Development has grown into one of Greater Boston's most competitive retail real estate development firms, owning and managing a diverse portfolio valued at approximately $150,000,000 in many of Eastern Massachusetts' most desirable retail markets. Bierbrier Development's portfolio includes; Arlington Village Shops in Arlington, Walgreens Plaza in Haverhill, Wellington Circle Plaza in Medford, Needham Street Village Shops in Newton, and South Shore Place in Braintree.
‹ Back